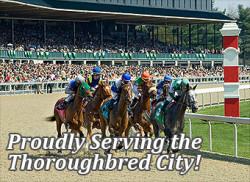 Thoroughbred Taxi Services is your source for quality car services in the greater Lexington area. If you need car service to the airport, for a night out on the town, or for an important business meeting or conference, give us a call! We offer prescheduled car service and airport shuttle service, as well as last-minute taxi service if you need an immediate pickup. We take pride in being one of Lexington's most reliable and punctual car and shuttle services, and we can't wait to share our commitment to exceptional service with you. 
Local Car Service
Airport Shuttle Service
On-Time Pickups and Drop-Offs
Reasonable Rates 
We're able to give you rides wherever you need to go in and around Lexington, including Lexington Blue Grass Airport. Do you need taxi service to a doctor's appointment or car transport service for a special date with your significant other? Is shuttle service the best way to catch your flight for your family vacation? Whether you need car transport service within Lexington or you're visiting our city, we want to be your taxi company of choice in the local area.
You can rely on Thoroughbred Taxi Services to make prompt, reliable service our top consideration. We'll always show up on time and choose the best possible route through Lexington to get you to your destination quickly. That said, we'll never compromise your safety for the sake of speed. When you need a Lexington taxi or airport shuttle, and you care about feeling safe and secure on the road while also staying on schedule, we're the taxi company to call.
To learn more about the airport shuttle and car services we offer, call or e-mail Thoroughbred Taxi Services today! We'll answer your questions and book the transportation you need. With our skilled and knowledgeable drivers in charge of getting you where you're going, you can sit back, relax, and enjoy the ride.