Airport Shuttle Services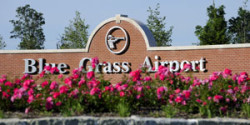 Air travel can come with a lot of stress attached. From making it through airport security to dealing with delays, today's travelers have a lot of issues to deal with. Take one worry off your plate by booking an airport shuttle to take you to the airport. For shuttle service in the greater Lexington area, you can count on Thoroughbred Taxi Services. We're a reliable and safe airport shuttle service providing rides to Lexington's Blue Grass Airport, among other local destinations. Whether you need shuttle services to the airport, home after your trip, or in both directions, we've got you covered. Contact us now to schedule your ride!
Airport shuttles have many advantages over driving yourself to the airport or getting a friend or family member to take you. For one thing, you won't have to spend time looking for parking, or pay exorbitant fees to keep your car in the airport's parking garage for the duration of your trip. Meanwhile, by booking an airport shuttle in advance, you can also avoid having to rely on others to help you with transportation. To get to Lexington Blue Grass Airport, you can put your trust in Thoroughbred Taxi Services' shuttle services. We'll make your next trip a breeze.
Prompt and Punctual Shuttle Service
Timeliness is a top priority for Thoroughbred Taxi Services. We know that getting to the airport on time is vital, and we provide airport shuttle services that include on-time pickups and drop-offs. We also know that at the end of a long journey, you want to get home or to your final destination as quickly as possible. When you book one of our airport shuttles to pick you up at the airport, we'll be waiting for you when you walk out the door.
Thoroughbred Taxi Services employs airport shuttle service drivers with extensive knowledge of the local roadways. We'll be able to select the fastest route to and from Lexington Blue Grass Airport, avoiding traffic problems and giving you peace of mind. We also care about your safety. Choosing Thoroughbred Taxi Services for airport shuttle services means riding in clean, well-maintained vehicles with skilled drivers behind the wheel.
If you're traveling, make your life easier by hiring Thoroughbred Taxi Services for airport car service! We're here for you, and we're waiting to take your call. 
airport shuttle
airport limousine service
airport limo service
airport transportation service