Taxi Services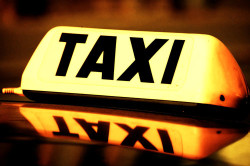 Do you need a reliable ride home from a night out with friends? Is taxi service the best way to get you to an important business meeting with all of your presentation materials intact? Are you interested in hiring a Lexington taxi to take you to the airport before a family vacation? Make Thoroughbred Taxi Services your taxi company of choice, whatever your specific travel needs. We're pleased to have a fleet of taxis in Lexington, KY, and we'll get you wherever you need to go. Contact us via phone or e-mail now to book your Lexington cab, and to learn more about what sets our business apart among Lexington taxi services!
We're able to provide you with a taxi in Lexington, KY, if you need a ride to or from:
Sporting events
Bars and restaurants
Concerts and events
Celebrations
Local airports
Shopping centers
And more!
When you call us to book taxi service, you can expect to be picked up in a clean and comfortable vehicle. We take pride in being a taxi company that provides a high-caliber experience to our customers, giving you a ride that is smooth and easy. Our Lexington taxi drivers are equipped with the training and skill that it takes to get you where you're going without ever putting your safety at risk. We're also extremely familiar with the highways and byways around the local area, and we can choose the best route to get you to your destination.
Timely Lexington Taxi Services
At Thoroughbred Taxi Services, we know that punctuality matters. That's why we always show up right at your scheduled time and strive to get you where you need to go on time. Whether you call us for a taxi in Lexington, KY, or you need to go beyond the city limits, we'll allow ample time and do our best to avoid routes with heavy traffic. If you call us needing to be somewhere by a specific time—such as to catch a flight or for a doctor's appointment—we can even help you determine how far in advance we should pick you up. Few other Lexington cab companies care as much about providing prompt and reliable service as we do.
For more information about making Thoroughbred Taxi Services your go-to source for taxis in Lexington, KY, contact us today! We'll answer your questions and schedule your ride. If you need a cab and want to ride with one of the best taxi services in the local area, you've come to the right place. 
taxi cab service
taxi service
airport taxi service